There have been plenty of college football villains in recent years.
Jimmy Clausen. Cam Newton. Johnny Manziel. Jameis Winston.
All cocky and brash quarterbacks. Most of them Heisman winners.
Mayfield is most certainly already the former. And depending on how this season goes, he just may also end up the latter. The true test begins this Saturday when No. 5 Oklahoma travels to No. 2 Ohio State seeking revenge for last year's 45-24 loss. And when Mayfield runs onto the field at The Horseshoe, the boos will rain down on him just the way he likes it.
"That's what keeps him going — his haters, people that are rooting against him," Oklahoma fullback Jaxon Uhles told CBS Sports.
There's certainly plenty of it to go around, as Baker Mayfield is currently the most hated player in college football.
Just take a quick look around the Internet for proof:
"Baker Mayfield is a real bitch."
"Is there a bigger douche in college football than Baker Mayfield?"
The insults go on and on.
The Johnny Manziel comparison seems most apt, as fans view the Oklahoma QB as an undersized, spoon-fed brat.
Mayfield has certainly given his detractors plenty of ammunition to hurl at him.
After being named Big 12 Offensive Freshman of the Year as a walk-on QB at Texas Tech, Mayfield had "communication" problems with Red Raiders head coach Kliff Kingsbury. When Kingsbury announced a quarterback competition to be Tech's starting QB for the Holiday Bowl, Mayfield took his ball and went home.
Mayfield's dad, James, later chimed in, calling Kingsbury a "punk."
Now persona non grata in Lubbock, Mayfield was just getting warmed up.
When Oklahoma was trounced in the 2016 Orange Bowl, 37-17, Mayfield went out of his way not to give credit to the Tigers' defense:
"It's frustrating watching those types of games, knowing they did nothing to stop us. We did everything. We left a lot on the field, made a bunch of mistakes. We had a penalty in the first half to stop a drive. I turned the ball over twice, which was very unlike me. And I did it in a big game, which I can't do. I need to take care of the ball. And it's frustrating to see that if we would have played the way we should have, we would have won."
He's also gotten under the skin of opposing coaches, saying TCU's Gary Patterson "kind of hung me out to dry" by not offering the QB a scholarship and that Patterson had something personal against him — something Patterson denied.
Patterson responded in kind: "If people knew the whole story, they might not have a great opinion of Baker or his father."
Mayfield got his revenge in 2013 when, while sitting out as a transfer student, he stole the offensive play call signs across the field from TCU co-offensive coordinator Sonny Cumbie — Mayfield's old offensive coordinator at Tech.
Like Manziel, Mayfield also has had an embarrassing brush with the law. Last February, Mayfield was arrested in Arkansas for public intoxication. In a ridiculous lapse of judgment, Mayfield tried to run from the officers arresting him — only to get sacked by three cops.
Hell, even Mayfield's own teammates don't like him — at least upon their first impression.
"At first I didn't like him," senior wide receiver Jeffrey Mead told ESPN.com. "He used to drive me nuts. Then I thought, 'Maybe he's doing this for a reason.' The more I got to know him … OK, I actually like him. I just have to understand what he's doing."
To his credit, Mayfield is very honest about being a shit-stirrer.
"Whether it's on or off the field, I'm always messing with people," Mayfield told CBS Sports. "Trying to see what they're made of, trying to get under their skin a little bit, get a reaction out of them. Having fun with it no matter what."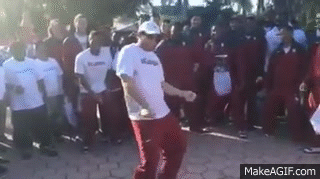 Mayfield's opponents know all too well about that. He's constantly running his mouth on the field, so much so that Mayfield was named the Big 12's biggest trash talker in a player survey this past summer.
Asked by Dan Patrick about it on his radio show, Mayfield responded: "Are you saying everybody hates me?"
To which Patrick replied, "I don't think there's going to be a '30 for 30′ (called) 'I Hate Baker Mayfield'" — alluding to the documentary "I Hate Christian Laettner."
"At least not yet."