College football has been played since 1869 and the games just seem to get better and more dramatic every year.
As such, we took on the Herculean task of ranking the 10 greatest college football games of all time.
Here they are:
10. 1971 "Game of the Century": Nebraska 35, Oklahoma 31
This version of "The Game of the Century" lived up to the billing as the top two ranked teams in the country squared off in Norman. Nebraska scored the go-ahead touchdown with 1:38 left but the game is best remembered for Johnny Rodgers' dazzling 72-yard punt return for a touchdown — one of the most iconic college football moments ever.
10. 1988 "Catholics vs. Convicts": Notre Dame 31, Miami (FL) 30
The buildup to this game between No. 4 Notre Dame and No. 1 Miami (FL) was unprecedented, thanks to a clever t-shirt by an entrepreneurial Notre Dame student. A pre-game melee between the teams in the tunnel was the perfect appetizer for this title fight that came down to a Hurricanes' 2-point conversion attempt with 45 seconds left; it was broken up by the Fighting Irish to give the Catholics the win.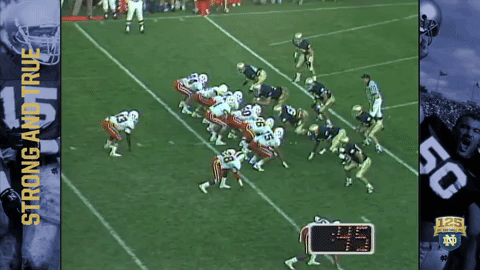 9. 2005 "Bush Push": USC 34, Notre Dame 31
Oddly enough, "Catholics vs. Convicts" isn't even the greatest game in Notre Dame Stadium history. That honor belongs to the 2005 USC-Notre Dame tilt in which the Fighting Irish broke out the special green jerseys for the top-ranked Trojans. Notre Dame played the game of its life but it wasn't quite enough, as USC QB Matt Leinart scored the game-winning TD with three seconds with a hand from RB Reggie Bush.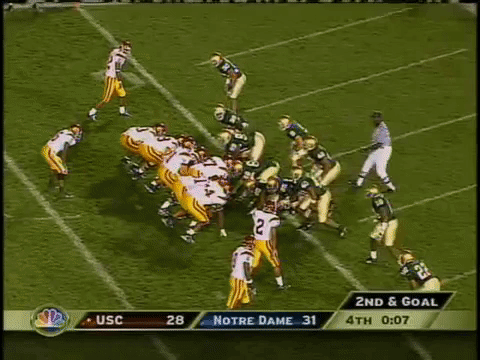 8. 1982 "The Big Game": Cal 25, Stanford 20
It was supposed to be just another rivalry game between two mediocre football teams. Instead, it delivered the most thrilling finish in college football history. Cal had a 10-0 lead at the half but Stanford QB John Elway led the Cardinal all the way back to take a 20-19 advantage on a 35-yard field goal with four seconds left. What happened next was aptly described by Cal radio announcer Joe Starkey as, "The most amazing, sensational, dramatic, heart-rending… exciting, thrilling finish in the history of college football!"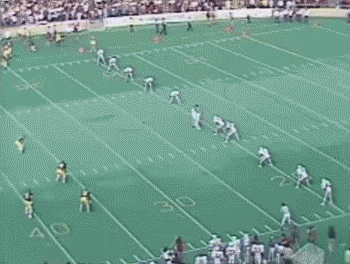 7. 1984 "Hail Flutie": Boston College 47, Miami (FL) 45
This was like an Arena League football game, as Miami's Bernie Kosar and Boston College's Doug Flutie combined for 919 yards through the air. Miami scored a go-ahead touchdown with 28 seconds left but that was too much time to give the Eagles, as Flutie connected with Gerard Phelan for "Hail Flutie" and the greatest Hail Mary ever.
6. 2007 Fiesta Bowl: Boise State 43, Oklahoma 42 (OT)
This game is docked a little bit because it was a consolation bowl game that had no bearing on the national title, but there was no shortage of drama in it. The final 1:26 of regulation saw Oklahoma score two touchdowns and Boise State score one on a hook & lateral with seven seconds left to force overtime. Everyone knows what happened there: Boise State ran the Statue of Liberty on a two-point conversion for the win, after which game-winning RB Ian Johnson proposed to his Boise State cheerleader girlfriend (yes, they are still together).
5. 2016 College Football Playoff National Championship: Clemson 35, Alabama 31
Let's be honest: The first half was a bit of a snoozer, as Clemson headed into the locker room with a 14-7 lead. But things escalated quickly in the second half when Alabama scored 17 unanswered points. Alabama looked like it had won the game on a brilliant Jalen Hurts 30-yard touchdown run with 2:07 left — only for Deshaun Watson to hit Hunter Renfrow in the end zone with one second left to deliver Clemson the title.
4. 2013 Iron Bowl: Auburn 34, Alabama 28
Auburn just would not go away. The Tigers came back from being down 21-7 and 28-21 to tie the game with 32 seconds left. Auburn fans prayed just for overtime when Alabama lined up for a 57-yard field goal attempt with one second left in the game. Instead, Jordan-Hare Stadium was delivered manna from heaven when cornerback Chris Davis caught the missed kicked and returned it 109 yards for the victory.
3. 2003 Fiesta Bowl: Ohio State 31, Miami (FL) 24 (2 OT)
Everyone assumed the defending national champion Miami Hurricanes would blow right through Ohio State. But the Buckeyes' defense put forth a heroic effort in slowing down "The U" and a roster full of future NFL stars. The game's outcome is still debated today due to a controversial pass interference call in the first overtime that gave the Buckeyes new life, which they parlayed into a national title.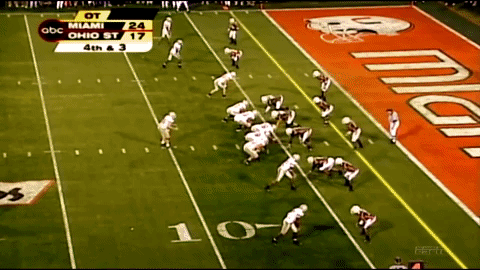 2. 2006 Rose Bowl: Texas 41, USC 38
To give you an idea of the talent on the field that night, there were three of the greatest college football players of all time in this game in Vince Young, Matt Leinart and Reggie Bush — as well as endless future NFL players. In an epic seesaw battle to the finish, Young capped the shootout with an 8-yard TD scamper on 4th and 5 to give Texas the lead for good with 19 seconds left.
1. 1984 Orange Bowl: Miami (FL) 31, Nebraska 30
The 1983 national championship game had it all: The Heisman Trophy winner (Mike Rozier),two legendary head coaches (Tom Osborne & Howard Schnellenberger), a huge underdog (Miami was a +10.5), a massive comeback (Nebraska trailed 17-0 after the first quarter), a Fumblerooski and – even though it failed — the gutsiest two-point conversion attempt in college football history.