Deondre Francois still isn't a household name across America despite a stellar freshman season in Tallahassee.
That's about to change on Saturday night when Francois plays in the biggest game of his life against No. 1 Alabama in Atlanta.
The question is, "Will he leave the field in one piece?"
If you saw Florida State's offensive line play last year, you understand the concern.
Alabama enters the "Greatest Opener of All Time" with another stacked defense that's headlined by massive defensive tackle Da'Ron Payne. And the Tide's defensive line will be teeing off against an FSU offensive line that was much-maligned last fall; Francois was sacked 34 times in 2016 and took more big hits than a quarterback should take in an entire college career.
In fact, Francois took so many brutal shots that someone made a YouTube video this past April called, "Deondre Francois Punishment Reel." It has over 20,000 views and features Francois getting pummeled on a weekly basis:
It's an absolute miracle that Francois didn't miss any games of the 2016 season considering shots like this:
And this: And this: And this: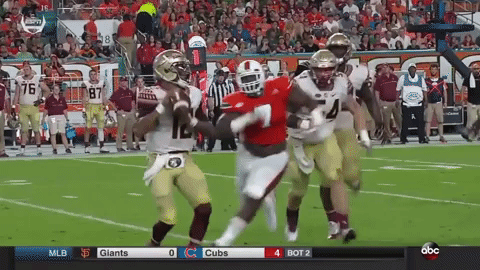 And this: And this:
But the 6-foot-2, 205-pound Francois just kept getting up after each brutal hit to throw for 3,350 yards and 20 touchdowns. Thanks to Francois' perseverance, Florida State finished with a 10-3 record and an Orange Bowl victory over Michigan.
According to his mother, Janice, Francois' fortitude is nothing new.
"He was always different," she told Warchant.com. "As he got older, I told him he was different, but he didn't know that he was different. That's why he would get into all of the fights. Because he was always different, with the red hair and the freckles and orange skin. He always stood out."
Francois' grit has also impressed his coaches and teammates.
Florida St. tight ends coach Tim Brewster told 247Sports this spring: "With Deondre Francois, the thing that I think has caught everybody's attention is not his arm talent, not all the things he can do throwing the football, but it's his toughness. I think he exemplifies what you need to have at the quarterback position leading your team, and that's toughness. Mentally tough, physically tough. Last year he was on the deck a number of times and got back up and led our football team."
FSU wide receivers coach Lawrence Dawsey told the Orlando Sentinel that Francois' toughness has also been infectious: "'If my quarterback can take that kind of pounding, how can I complain about doing what I'm supposed to do to help him be successful?'"
As for Francois, he doesn't point fingers at his offensive line or bemoan the punishment he took as a freshman. In fact, it's quite the opposite.
"It's a part of the game, and I feel like if you can't take hits, you shouldn't play the game," Francois told the Orlando Sentinel.
This season will require Francois shortening his internal clock to get rid of the ball quicker and drastically improved play by the O-line.
There is reason for optimism, as Francois now has a year of experience under his belt and four of five starters in the trenches return from last season.
But there is also reason for concern. The lone departing starter was arguably the ACC's best lineman, Roderick Johnson. And the unit's top two backups, Jauan Williams and Baveon Johnson, recently sustained season-ending injuries — making the line's depth very thin.
We'll find out just how much Francois' internal clock and FSU's line have improved real quick, as Lindy's rates Alabama's defensive line as the third best in college football.
If Francois isn't protected better, he'll never make it through another season uninjured.
But if he is, the No. 3 Seminoles just might find themselves back in Mercedes-Benz Stadium come January for the College Football Playoff National Championship.